Hatch Battening and Hunkering Down Time?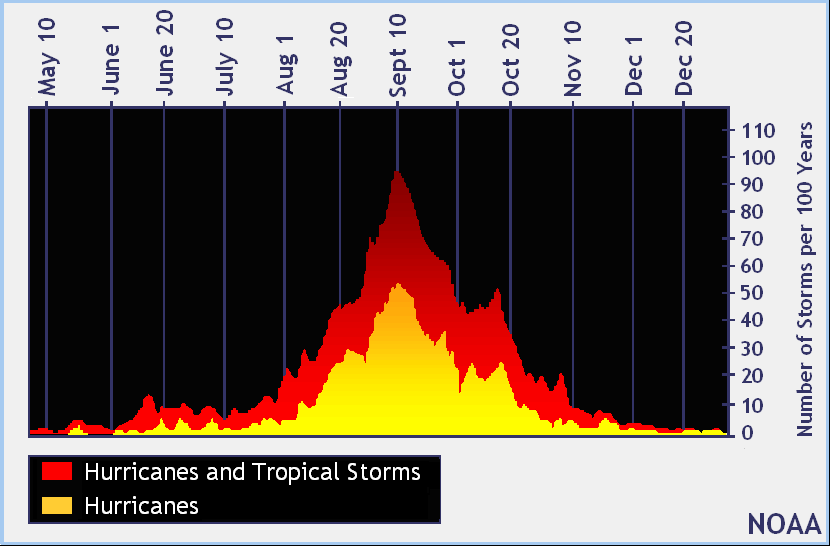 As summer winds down and looks towards autumn, the eyes of meteorologists look to the tropics. The Atlantic hurricane season runs from June 1st through November 30th each year. However, the peak of the season is just around the corner. Mid-August thru mid-October is the period when the most dangerous tropical storms and hurricanes seem to form. Most notorious is the period from August 20 through September 10, which historically is the most active time of the year.    
Right now, there seems to be an abundance of drier air in the Atlantic Basin, which has helped keep development of severe storms to a minimum. By mid to late August, however, that is expected to change, and allow for more storm development.
The final forecast from top experts at Colorado State University, released this past Friday, again calls for an "above-average 2013 Atlantic basin hurricane season." A total of 18 named tropical storms are forecast to form, of which eight should be hurricanes. This is a slight reduction from Colorado State's previous forecasts, which called for nine hurricanes. A typical year, based on weather records that go back to 1950, has 12 tropical storms, of which seven are hurricanes. A tropical storm has sustained winds of 39 mph; it becomes a hurricane when its winds reach 74 mph.
Changes at NHC
The National Hurricane Center (NHC) has implemented a few changes this year that will affect the way predictions are made, and how they are presented. Here are four that are significant for planning purposes.
Enhanced Computer Power Will Allow for More Precise Forecasts
In addition to benefitting from NOAA's Hurricane Forecast Improvement Program, the National Weather Service (NWS) underwent a major upgrade to their supercomputers this year that more than doubled their computing capacity. According to the agency, this has made them twice as fast in processing computer models, and will allow them to provide more accurate forecasts further out in time. With improved forecasts anticipated, the NWS has decreased the size of their forecast cone for tropical systems, resulting in a more specific track map for storms.
What this means to you as you plan for forecast storms, is that there will be less "wiggle" room in the forecast path of a storm.  The "forecast cones" will be smaller, so those areas in the past that might have been in the forecast strike range will no longer be.  This is a two edged sword, however, in that those areas on the fringe may not take storm preparations as seriously, believing they are not in danger.
A New Symbol Will Represent Tropical Depressions
The National Hurricane Center (NHC) has done away with the old symbol that indicates a tropical depression and replaced it with a hollow circle. The symbols now used appear in the graphic to the right (click to enlarge), and will be used on all NHC forecast products.
Hurricane and Tropical Storms Watch and Warnings Are Redefined
After Superstorm Sandy, the NWS made the decision to modify the hurricane and tropical storm watch and warning definitions to allow them to be used after a system has become post-tropical. Additionally, they now have the option to continue issuing advisories after a system has become post-tropical, in the case that it continues to pose a significant threat to life and property. With this change, the public can anticipate seeing more advisories, continuing awareness of potential threats long after the term "hurricane" or "tropical storm" is discontinued.
Tropical Weather Outlooks Will Now Look Forward Five Days
As of Aug. 1, the NHC will now be providing tropical outlooks that look five days forward. A tropical outlook indicates where disturbed weather is located and where there is potential for tropical development. Previously, the outlook only extended 48 hours out. This is the first change in the outlook time period in several decades, according to the NHC.
Related articles